Agatized Dinosaur Bone and Cobalt Ring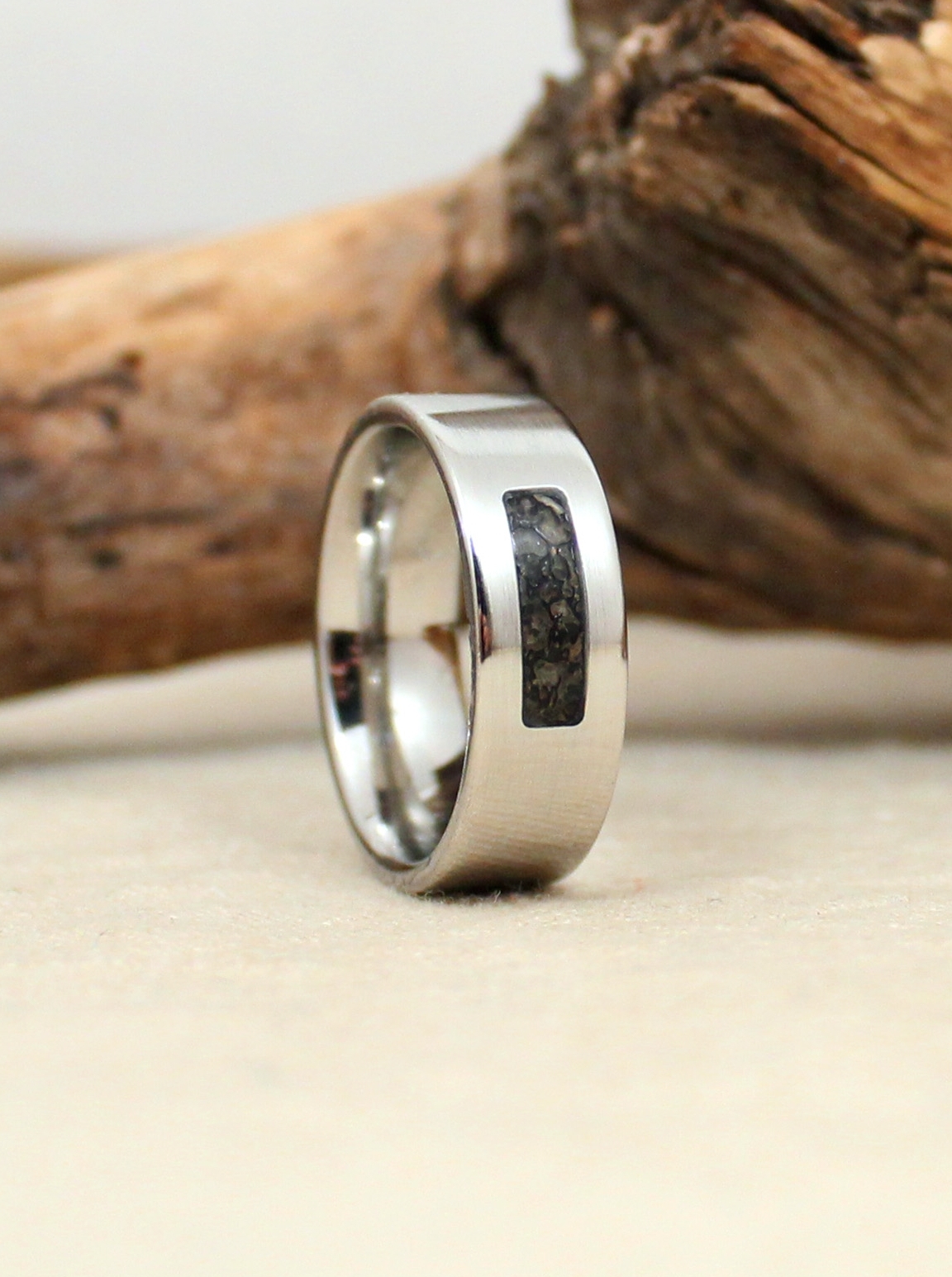 Agatized Dinosaur Bone and Cobalt Ring
CONSULTATION REQUIRED
Agatized Dinosaur Bone (aka Gembone) comes in many colors and patterns. We will select a piece for your ring together.
Agatized Dinosaur Bone, also known as Gembone is created as the bones mineralize - as the natural bone is replaced, over a period of millions of years, with agate (chalcedony), quartz, or other minerals. The exact nature of the minerals that surround the bone, primarily determined by the region of origin, determines the color of the final product. Because these rare gems come in such a wide variety of colors, your input will be required when you order. Please indicate a general color/appearance, and I will show you my available stock that most closely matches what you are looking for.
The inner portion of this ring is made of Cobalt - the most scratch resistant and shatterproof material I offer. Like titanium it is hypoallergenic and biocompatible. However, in many circumstances under which your Titanium ring might scratch, Cobalt will not. It is an alloy that is identical to Platinum in color, but it is an order of magnitude stronger. Cobalt offers nearly the scratch resistance of Tungsten Carbide, but unlike Tungsten, Cobalt will not shatter if dropped.

Comfort fit.

I highly recommend going to a jewelry counter to determine your size, even if you already know your size. "Do it yourself" ring sizing methods (string, etc.) should absolutely not be trusted. Be sure to be measured using the width you plan to order.

NOTE ON WIDTH:

The minimum width for this style of ring is 6mm. The maximum is 8mm.

Dinosaur bone inlay is 60 degrees around the ring and 4mm wide.

************************************ IMPORTANT INFO ****************************************

****************************************************************************************************
****PLEASE PLEASE PLEASE BE 100% SURE OF YOUR SIZE BEFORE ORDERING *****
****************************************************************************************************

Cobalt interior wood rings cannot be resized at all! Every ring is made to the exact size provided. An error in sizing will necessitate a completely new ring. Refunds and exchanges will not be possible.

Please click on the "Policies" link (under Shop Info) to see wood ring care instructions and FAQ.

Each ring is given multiple coats of a hybrid epoxy finish, which is completely water-proof and soap proof. This protective coating is sanded up to 12,000 grit for an unbelievable, glass-like finish.

All rings ship via USPS Priority (or Priority International) Small Flat Rate Box. If you are outside the US and Canada, your only shipping option is Global Express. Please read below for details. Insurance is mandatory for this ring, and included in the shipping charge. You pay what I pay for shipping, nothing more.

For customers outside the US:

Due to changes in USPS policy, international packages sent to countries other than Canada can no longer be tracked past the US border. Insurance claims are also not possible. Due to this change and for your protection, international customers outside of Canada will be required to pay for USPS Global Express shipping ($60.95), which in addition to guaranteeing arrival within 3-5 business days (excepting intervention from your country's customs department), also can be tracked and insured. I wish I could offer a more economical solution, but cheaper options are too risky.

International customers are responsible for all fees associated with shipping to their respective countries. Orders that are shipped to countries outside of the United States may be subject to import taxes, customs duties and fees levied by the destination country. The recipient of an international shipment may be subject to such import taxes, customs duties and fees, which are levied once a shipment reaches your country. Additional charges for customs clearance must be borne by the recipient; I have no control over these charges and cannot predict what they may be. Customs policies vary widely from country to country; you should contact your local customs office for further information. When customs clearance procedures are required, it can cause delays beyond the original delivery estimates. It is against the law and I will not mark an item as a "gift" to avoid any fees.